FCP Modular Horse Barn Building Plans & Kits
Barn Plans - Pre-engineered, kitted, and delivered to your build site.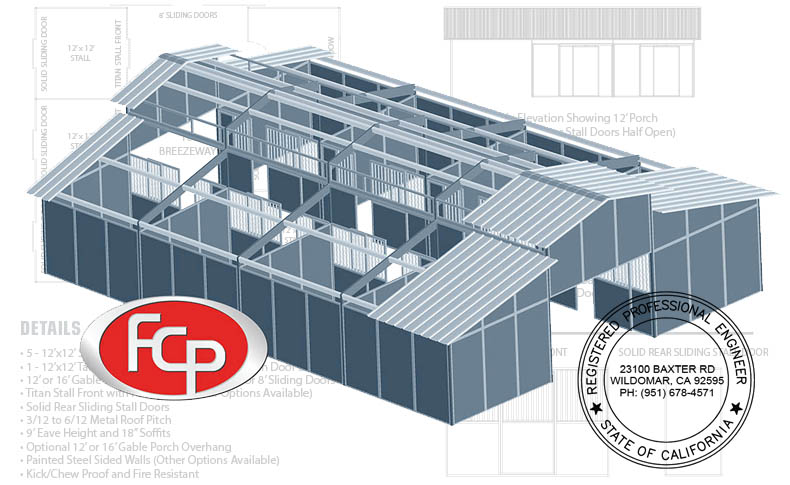 Serving the Equestrian Industry Since 1982.
Barn Plans - FCP Pre-Engineered Barn Building Plans & Kits
FCP Barns and Buildings, QUALITY you can see, SERVICE you deserve, a name you can TRUST
Barn Plans - FCP Prefab Building Systems
Barn Plans – Browse our horse barn floor plans and kits below and then enter the number to get a quote.
FCP barns are engineered to be the safest, most durable, and low maintenance barns in the industry. FCP prefab barns are built right here in the USA and are backed by FCP's leading industry warranty.
Want to customize your barn plan? FCP offers more barn options and accessories than any other manufacturer. Contact us to discuss your barn plan ideas, or try our Design-A-Barn  3D Visual Barn Planner.
At FCP, we make barn building easy!
Enter Barn Plan Number(s)
Get A Quote – Simply browse the horse floor plans below. Once you find a style you like, submit the plan number(s). It's a simple way to start a conversation with us.
Barn Plans - Browse FCP Popular Horse Barn Floor Plans & Kits
FCP's Shedrow floor plans, or Inline Barns, provide a traditional gabled roofline with a generous protective porch overhang. They're an excellent choice for areas with space limitations and provide the most natural ventilation, perfect for warmer climates.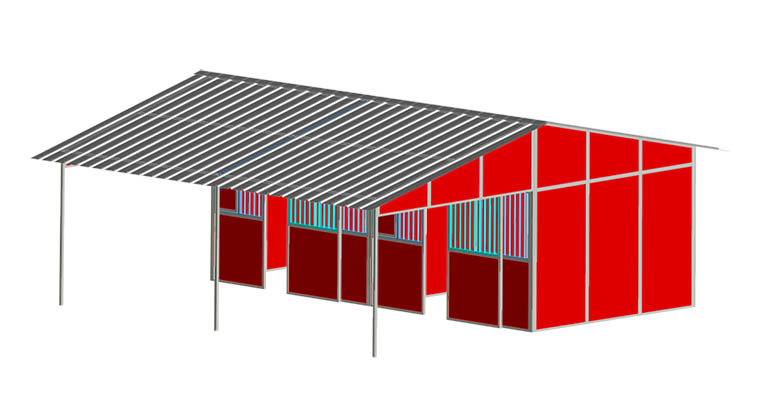 Gable style open breezeway horse barn floor plans are cost-effective structures utilizing a single-pitched roofline. With its timeless beauty, the FCP gable barn is attractive, functional, and economical.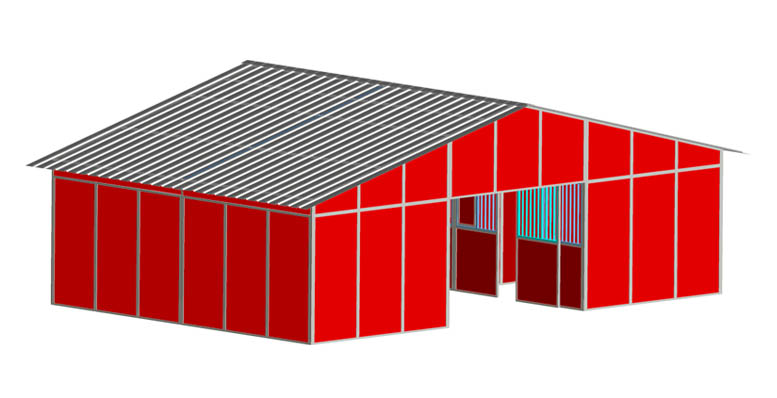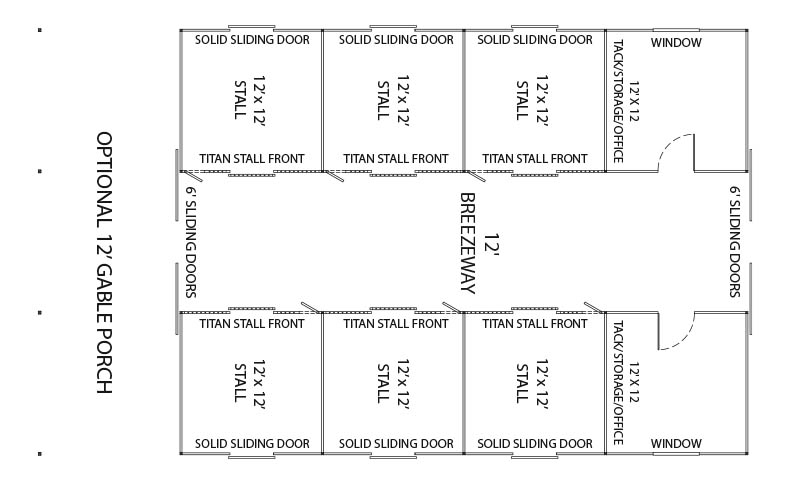 8-Stall Gable Barn with 2-Tack, Storage, or Office units, 12' or 16' Breezeway, Optional Porch​
Raised Center Aisle (RCA) Horse Barn Plans
RCA barn floor plans are most popular among horse enthusiasts. The traditional look of RCA barns allows for greater air circulation and natural lighting. Optional RCA sliding windows with screens between the upper and lower rooflines provide ventilation control.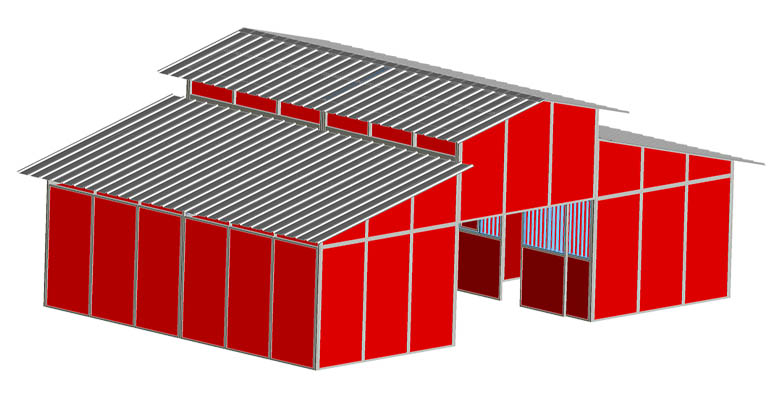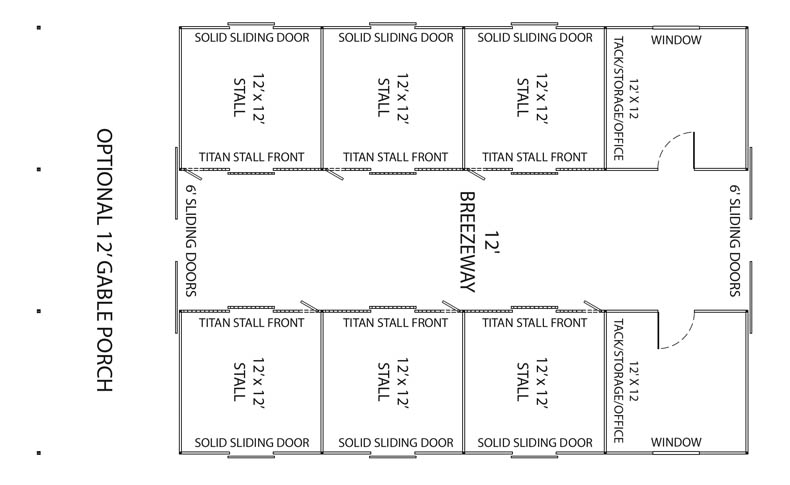 8-Stall RCA Barn with 2-Tack, Storage, or Office units, 12' or 16' Breezeway, Optional Porch
FCP Freestand Modular Building Plans
RCA Freestand plans are perfect for garages, RC, Trailers, Agriculture Equipment, Workshops, Storage Buildings, Hay and Equipment, Offices, and much more. Made from the same fire-resistant materials as out barns and backed by the same warranty.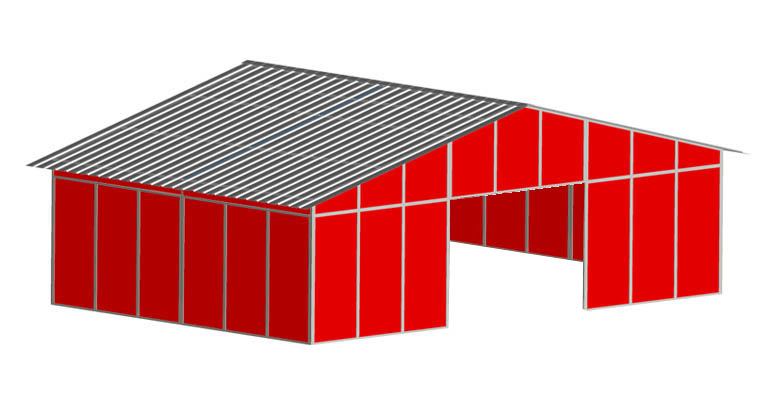 Not Finding What You're Looking For?
FCP Can Design and Engineer Any Barn or Building Plan For Any Application
Design your own barn plan using our proprietary Design-A-Barn 3D Visual Planner. Try it today, it's free, fun, and easy to use.
If you have an idea for a custom barn, or need assistance with a large equestrian or commercial barn project, please call us at 800-807-2276, or use our Project Quote Request form.
Looking for
Design Inspiration
With so many colors and barn building options, we're only limited by your imagination!
At FCP, We Make Barn Building Easy!