Don't settle for anything less than the best. FCP barns provide safe, healthy, and comfortable living quarters for horses and livestock.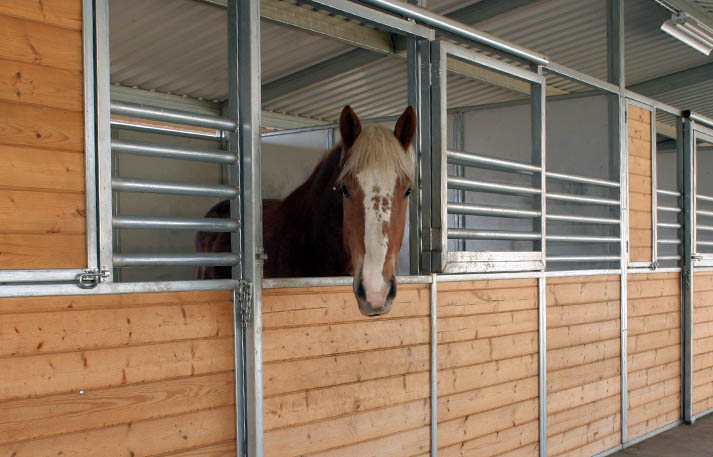 Barn Health and Safety Features
Built by People Who Understand Horse Health and Wellness - It's What We Do!
Because a healthy horse is a happy horse!
FCP Barn Safety Features – Horse housing isn't something to be taken lightly. Not only do you need to protect the health and wellness of your livestock, but also the investment of your barn structure. At FCP, we understand what's at stake because we've been in the equine industry since 1982.
Besides the sound, solid, proven performance that an FCP structure provides, our designers and engineers give the utmost attention to detail to provide horses and farm animals a safe, healthy and comfortable environment to live in.
Horses can dish out tremendous punishment to the walls and doors of barns and corrals on a daily basis. FCP metal structures are manufactured using the highest grade materials in the industry, designed to withstand not only the punishment horses and livestock can have, but also the punishment from harsh weather conditions.
Compare the FCP Barn safety features below and we're sure you'll agree, that America's "Best-Built" barns are second to none.
Fire Safety
Kick & Chew Proof
Healthy Environment
Low Maintenance
Snow/Wind Load Safe
Fire Safety
Unlike traditional wood pole barns, FCP barns are constructed of steel and metal fire retarding components that won't spread fire making them darn near fireproof. A significant advantage over traditional wood pole barn construction.
FCP steel building materials are fire resistant, per UBC Chapter 4, as applied to building construction materials. This means the materials will not ignite and burn when subjected to fire.
Kick & Chew Proof
Healthy Environment
Low Maintenance
Snow/Wind Load Safe
Proudly made in the USA Since 1982
Ready to get started, or simply have questions? Contact us and we'll be glad to help in any way.​
Call 800-807-BARN to get started today. We'll work with you or your team to create the barn or building that meets both your visual desires as well as your functionality requirements. QUALITY you can see, SERVICE you deserve, and a name you can TRUST – FCP Barns & Buildings.
Licensed | Bonded | Insured | CA Contractor License #847398​
Let's Build Something Great Together!
Ready to start a conversation about your barn, equestrian facility, or AG building project? Contact us today and we'll be happy to assist you in turning your ideas into reality.