Custom Barn & Building Design Options
Horse Housing and Equestrian Facility Manufacturing Made Easy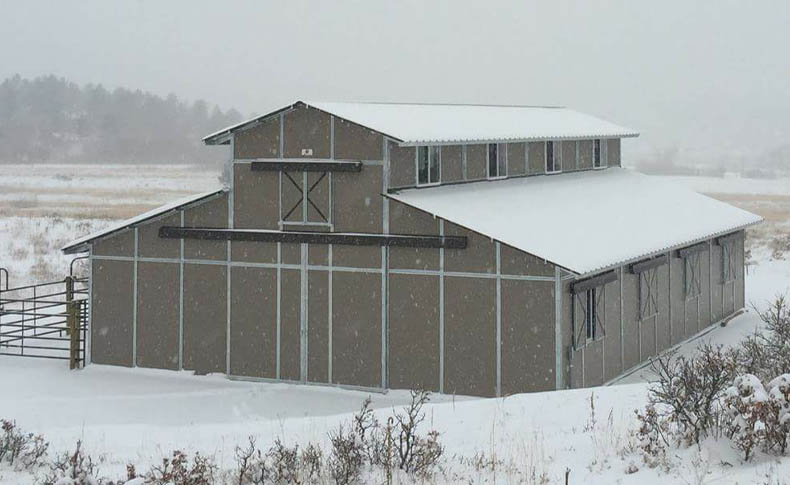 Serving the Equestrian Industry Since 1982.
FCP Roof Pitch - Customize Your Barn
FCP Barns and Buildings, QUALITY you can see, SERVICE you deserve, a name you can TRUST
At FCP, we make it easy!
Roof Pitch options, for FCP modular barns and buildings, let you select from 3/12 to 6/12 roof pitches for both aesthetic tastes and environment requirements.
Roof Pitch – FCP roof pitch options from 3/12 to 6/12, provide both aesthetic architecture preferences, as well as climate requirements where run-off of rain and snow is needed. Areas, where higher levels of snow or rainfall are common, prefer to build roofs with a steeper pitch. FCP roofs are designed to prevent pooling of water or accumulation of snow, as over time, these can cause roof damage, from mold and leaks to cracks, or even collapse.
All FCP roofs come standard engineered for heavy wind and snow loads. Let our expert barn and building designers help you determine what roof pitch is right for you. 
FCP roof pitch examples. Get Inspiration for your barn or building design.
Not finding what you're looking For? Contact us for special requests.
See why FCP makes USA's "Best-Built" Barns & Buildings
FCP Barns & Buildings Resources
Keeping Horses and Barn Animals Safe, Healthy, and Comfortable is What We Do!
FCP Barns & Buildings Solutions
Since 1982, the FCP brand has continually set the standards for providing the finest US quality for the most demanding barns and agriculture buildings. 
Call Us Today at 800-807-2276
Barns, Equestrian Facilities, AG Buildings - Creative Steel Structures