Round Pens
Horse Pens – Training & Development
AG Structures for Equestrian Applications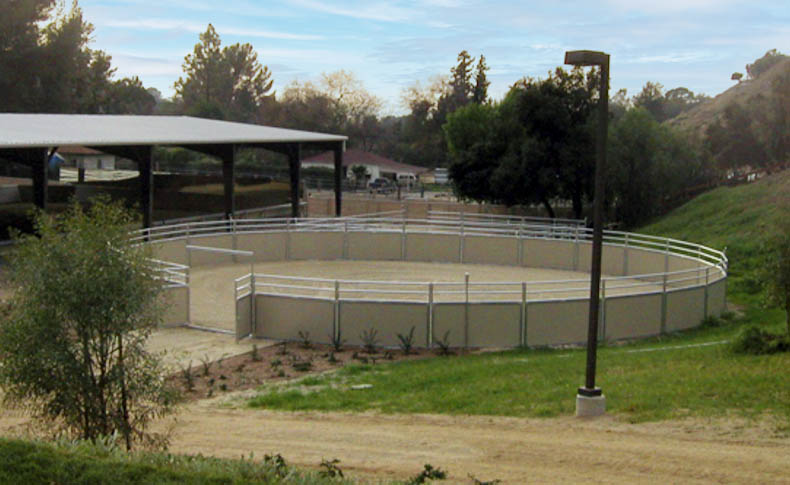 Serving the Equestrian Industry Since 1982.
Round Pens – AG Structures by FCP
FCP Barns and Buildings, QUALITY you can see, SERVICE you deserve, a name you can TRUST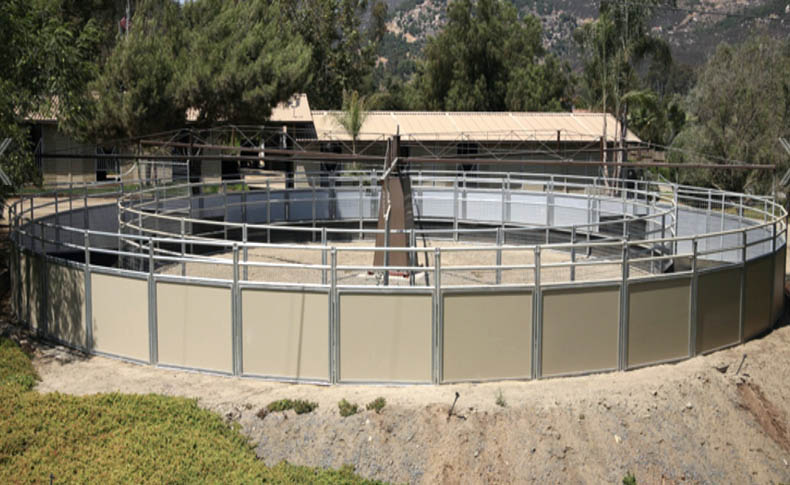 Round Pens
FCP's Round Pens, Breaking Pens, and Longeing Pens. FCP offers the broadest selection of materials and colors in the industry and uses the same premium galvanized steel and certified workmanship as our barns and buildings. FCP round pens are built to last a lifetime. All our durable solid wall round pens come with our lifetime kick-thru warranty. Looking for the "Best-Built" round horse pens? Then you've come to the right place!
Round Pens Gallery
Horse Pens • Longeing Pens • Breaking Pens • Round Pens
FCP Round Pens – Round pens are an important tool for developing and maintaining a relationship with horses. A typical round pen size for horse training is usually 50 to 60 feet in diameter. The minimum recommended size for a round pen is 30 feet, while the maximum useful diameter is 100 feet. Longeing and groundwork can be performed at approximately 50-foot diameter, while 60 feet may be ideal if there is riding within the pen. FCP can design your round pen in any diameter you desire. Here are just a few of the Round Pens we've manufactured for individuals and equestrian facilities.
Horse Pens – AG Structures
Made from the same materials as our barns, FCP offers plenty of siding and color options to customize your round pen to your taste. We can also provide a round pen cover for year-round shelter protection. FCP Round Pens come with the same safety and health benefits, as well as warranty, as our "Best-Built" American-made Barns.
Round Pens – Solid Wall Siding Options
Painted Steel

Zincalume Steel

Wood T1-11

Tongue and Groove

Cement Board T1-11​

Cement Board Stucco

Foam Insulation
FCP Arenas
Looking for large equestrian training, event, or commercial arenas? Click here for FCP Arenas.
FCP Barns & Buildings Resources
Keeping Horses and Barn Animals Safe, Healthy, and Comfortable is What We Do!
FCP Barns & Buildings Solutions
Since 1982, the FCP brand has continually set the standards for providing the finest US quality for the most demanding barns and agriculture buildings. Made in the USA, FCP is your ONE-STOP design and construction solution. We love a challenge and welcome projects of all sizes, so if you're looking for America's best-built AG structures, then you've come to the right place.