Custom Barn & Building Design Options
Horse Housing and Equestrian Facility Manufacturing Made Easy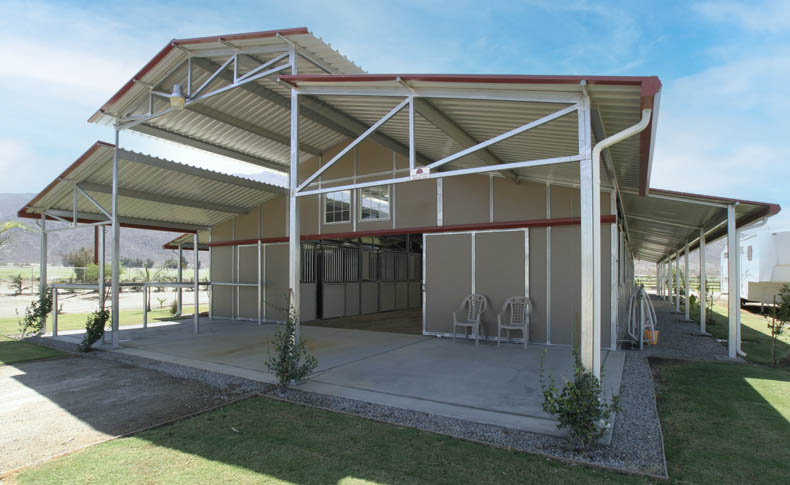 Serving the Equestrian Industry Since 1982.
FCP Porches and Overhangs - Customize Your Barn
FCP Barns and Buildings, QUALITY you can see, SERVICE you deserve, a name you can TRUST
At FCP, we make it easy!
Porches and Overhangs – Customize your barn or equestrian facility with a custom overhang or porch. Not only do they make your barn stand out, they provide excellent shelter against nature's harsh elements.
Porches and Overhangs add value and enjoyment and are a great way to add usable barn space and increase comfort for both you and your animals. Create a run-in shelter for your horses and livestock, or enjoy sitting under your barn porch taking in a sunrise or sunset. 
FCP can also provide Free-Standing shade structures. Visit our Horse Shelter products to learn more.
Have a porch or overhang idea? Let our design team turn your idea into reality.
FCP Porches and Overhangs. Get Inspiration for your barn or building design.
There are Porch and Overhang examples all over our website. Here are just a few.
The FCP advantage - Porches & Overhangs
Porches and Overhangs – FCP offers several porch options and like the rest of FCP's structures, the designs are the most robust in the industry. FCP's design includes extra strong full-height trusses with oversized cee purlins. Box rafters and purlin systems conceal roofing screws and eliminate nesting areas for birds. We've been manufacturing barns and horse stalls since 1982. We appreciate that no two customers are alike. No matter if you need a small stall backyard barn or economical horse housing for 100, we love a challenge! FCP can design/engineer a porch or overhang for your dream barn.
For Free-Standing Shade Shelters, visit our Horse Shelter products.
See why FCP makes USA's "Best-Built" Barns & Buildings
Not finding what you're looking For? Contact us for special porch and overhang requests.
FCP Barns & Buildings Resources
Keeping Horses and Barn Animals Safe, Healthy, and Comfortable is What We Do!
FCP Barns & Buildings Solutions
Since 1982, the FCP brand has continually set the standards for providing the finest US quality for the most demanding barns and agriculture buildings. 
Call Us Today at 800-807-2276
Barns, Equestrian Facilities, AG Buildings - Creative Steel Structures