Mare Motels
Mare Motels – AG Housing Shelters
Practical Housing for Equestrian and Agricultural Applications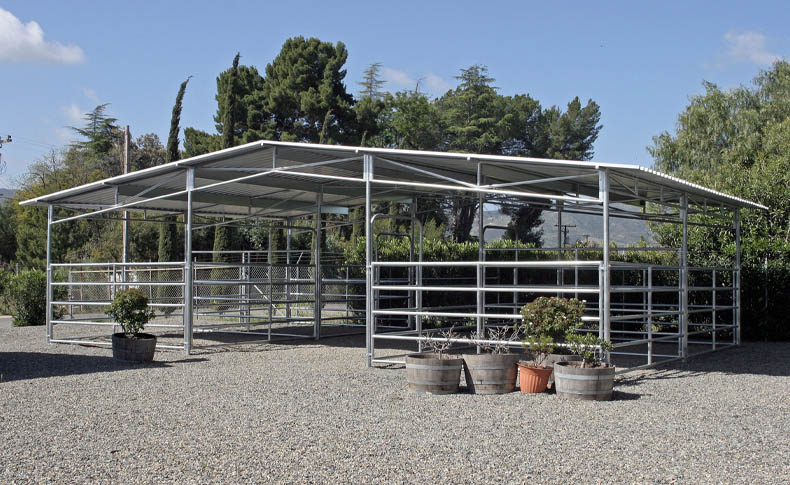 Serving the Equestrian Industry Since 1982.
Mare Motels – AG Structures by FCP
FCP Barns and Buildings, QUALITY you can see, SERVICE you deserve, a name you can TRUST
Mare Motels
FCP Mare Motels provide long-lasting durability and value, as well as the "Best-Built" quality you've come to expect from FCP. We're one of the few manufacturers that engineers Mare Motel shelters to meet code compliance regardless of permit requirements. We use the same trusses and connector columns used in our barns, plus, with FCP's modular building system, wire panels or solid barn walls can be interchanged with standard pipe if desired. Contact us and we'll help you design the perfect Mare Motel for your needs.
Mare Motels Inspiration Gallery
Mare Motels can be configured in many layouts including the classic breezeway configuration, which allows for easy feeding, optimal ventilation, and a comfortable area for grooming your horses. Corrals can have partial or full coverage and are available in a variety of sizes to suit your specific needs. From small ranches to the largest boarding facilities, Mare Motels are an effective and practical equine housing choice. Take a look at just some of our Mare Motel projects that industry professionals have entrusted to FCP to build.
Mare Motel – Practical Housing for Equestrian and AG Applications
Mare Motels are a practical housing option for equestrian and agricultural applications. From a few animals to hundreds, or even thousands, FCP Mare Motels are the perfect economical solution. Proudly made in America since 1982.
FCP Barns & Buildings Resources
Keeping Horses and Barn Animals Safe, Healthy, and Comfortable is What We Do!
FCP Barns & Buildings Solutions
Since 1982, the FCP brand has continually set the standards for providing the finest US quality for the most demanding barns and agriculture buildings. Made in the USA, FCP is your ONE-STOP design and construction solution. We love a challenge and welcome projects of all sizes, so if you're looking for America's best-built AG structures, then you've come to the right place.