Custom Garages
RV, Trailer, Boat, Storage Garages
Custom Metal Buildings Kits and Steel Structures by FCP​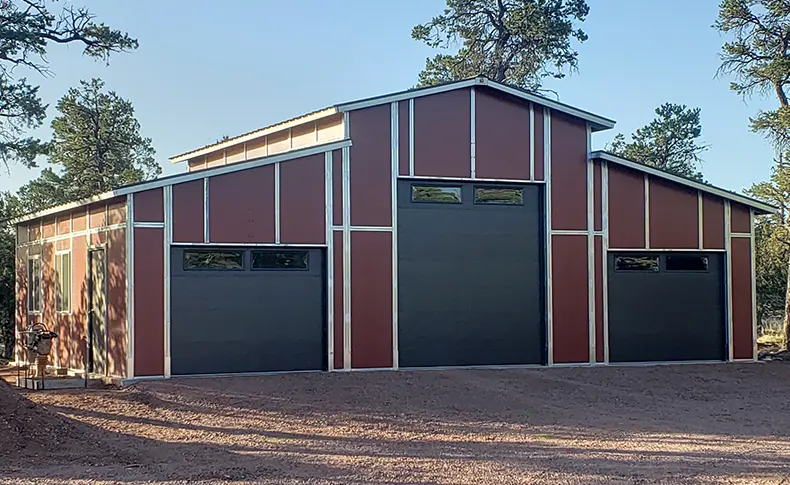 Metal Buildings & Creative Steel Structures Proudly Made in the USA Since 1982
Car, RV, Trailer, Boat – FCP Custom Garages & Storage Buildings
FCP Barns and Buildings, QUALITY you can see, SERVICE you deserve, a name you can TRUST
Custom Garages by FCP
Custom Garages – In need of extra garage space? Need a custom RV or boat storage cover? FCP's "Best-Built" metal building kits make it easy. Get the durability and quality you expect from the same materials as our legendary barns, or from our cold-rolled steel building system. Made in the USA, FCP provides the convenience of custom engineering, fabrication, and installation, and with the largest selection of materials and colors, it's no wonder we're the brand of choice. Have an idea for your perfect garage? Contact us and we'll help you turn your big ideas into reality.
Custom Garages – Car, RV, Trailer, Boat, Plane, AG Equipment
FCP detached modular, pre-engineered garage kits are the ideal solution for your home, ranch, AG, or business needs. Our free-span custom garages and storage covers can be sized for cars, up to the largest RVs, and even airplanes. Our line of high-quality, cost-effective RV covers and custom garages provide superior durability and protection. All FCP metal buildings are engineered to meet or exceed all building codes and come with an industry-leading warranty.
Click to Enlarge
For FCP's legendary Steel Sided Wall Panel building system materials and color options, CLICK here to learn more.
For all custom materials, including Cold Form & Rigid Steel Framing options and colors, please ask your dealer or contact us.
FCP Custom Garages – Metal/Steel Storage Buildings
FCP – We build the unusual! FCP can incorporate premium materials to customize your metal building structure, from colors and roofing materials to numerous construction alternatives. For over 40 years, we've been in the field designing client-specific solutions that are engineered to make everyday tasks easier. Contact us today to discuss your workshop or storage building project.
Looking for Large Commercial or Industrial Buildings?
FCP Barns & Buildings Resources
Keeping Horses and Barn Animals Safe, Healthy, and Comfortable is What We Do!
FCP Metal and Steel Building Structures
Creators of Metal Buildings, and Steel Fabrication Solutions
Since 1982, the FCP brand has continually set the standards for providing the finest US quality for the most demanding barns and agriculture buildings. Made in the USA, FCP is your ONE-STOP design and construction solution. We love a challenge and welcome projects of all sizes, so if you're looking for America's best-built AG structures, then you've come to the right place.