Hay and Equipment Buildings
Equestrian and Agricultural Buildings
Custom Metal Buildings Kits and Steel Structures by FCP​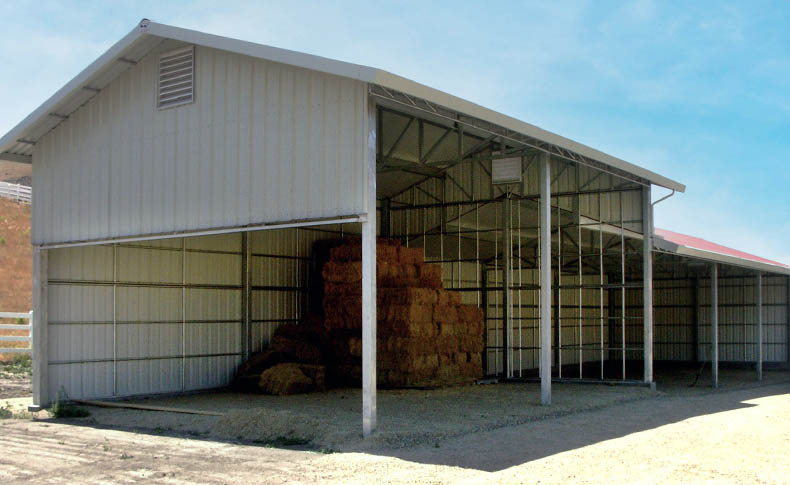 Metal Buildings & Creative Steel Structures Proudly Made in the USA Since 1982
Hay and Equipment Buildings & Structures
FCP Barns and Buildings, QUALITY you can see, SERVICE you deserve, a name you can TRUST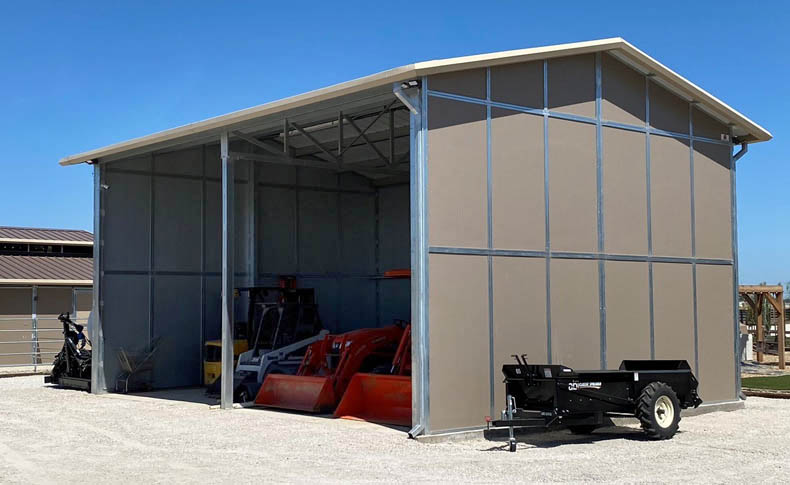 Hay and Equipment Buildings
Hay and Equipment Buildings – You work hard every day to care for your livestock, and your land. For over 40 years, we've been in the field and on job sites working just as hard to design and engineer the best buildings so your day-to-day tasks are easier and worry-free. Get durability and QUALITY you can see, SERVICE you deserve, and a name you can TRUST. Let FCP's seasoned professionals, with real-world experience, help you with your Hay and Equipment building project.
FCP Hay and Equipment Buildings
Low maintenance and long-term durability are important when it comes to protecting your feed and equipment. At FCP, we design our hay and equipment storage buildings to outlast and outperform traditional construction materials. Not only are they a better long-term investment, but they look beautiful, protect perishables and equipment from the elements, and are built to last. They're fire-resistant and can be customizable to meet your aesthetic tastes and functionality requirements. At FCP, all our metal buildings are engineered to meet or exceed all building codes and come with a leading industry warranty. Take a look at just a few of the many custom hay and equipment buildings we've built.
Click to Enlarge
For FCP's legendary Steel Sided Wall Panel building system materials and color options, CLICK here to learn more.
For all custom materials, including Cold Form & Rigid Steel Framing options and colors, please ask your dealer or contact us.
Hay and Equipment Buildings – Metal/Steel Storage Buildings
Not only should an investment in a hay or equipment storage building protect and preserve contents, but they should also look good to enhance your property's value, and last a lifetime. That's the FCP reputation and the leading reason why so many enthusiasts and professionals choose FCP Buildings. They appreciate our experience, high-quality construction, modular designs, customizable options, prefabrication convenience, and most of all, our best-in-class service.
FCP – We build the unusual! FCP can incorporate premium materials to customize your hay or equipment storage building, from colors and roofing materials to numerous construction alternatives. For over 40 years, we've been in the field designing client-specific solutions that are engineered to make everyday tasks easier. Contact us today to discuss your custom Hay or Equipment Building project.
FCP Barns & Buildings Resources
Keeping Horses and Barn Animals Safe, Healthy, and Comfortable is What We Do!
FCP Metal and Steel Building Structures
Creators of Metal Buildings, and Steel Fabrication Solutions
Since 1982, the FCP brand has continually set the standards for providing the finest US quality for the most demanding barns and agriculture buildings. Made in the USA, FCP is your ONE-STOP design and construction solution. We love a challenge and welcome projects of all sizes, so if you're looking for America's best-built AG structures, then you've come to the right place.