WestWorld Equestrian Center Project
Coffman Barns, official FCP dealer and contractor for the WestWorld Equestrian Center Project
Coffman Barns, official FCP Barns and Buildings dealer, recently completed the fourth WestWorld double breezeway RCA barn, the fifth barn is being constructed, and the sixth barn is on order. The first six FCP barns of the WestWorld project are on track for completion prior to the 2024 Arabian horse show in Scottsdale Arizona. The remaining four+- FCP barns will follow sometime in the near future.
WestWorld Equestrian Center Project
Each of the FCP double 16' breezeway RCA style barns feature 24 stalls per breezeway for a total of 48 per barn, and a grand total of 480 stalls when the 10+- barn WestWorld project is complete. Each 10' x 12' stall features FCP's Titan vertical grill stall fronts with rear grill window with solid sliding shutters on the outer stalls. Other features include 9' high breezeway doors, closed lower eave for winter and open upper RCA for warmer temps with custom 3rd party RCA screens to keep out birds. Electrical and fire sprinkler are also installed by 3rd party contractors.
Coffman Barns is the lead project manager for the installation of the barns utilizing up to three installation crews working night shifts due to the extreme heat in the summer months. The prefab barn manufacturing from FCP's California factory is meticulously quality control checked, kitted, and drop shipped to meet "just-in-time" and "on-budget" accelerated delivery scheduling and assembly efficiency. Coffman Barns also provided the demo and removal of the original barns built in the 80's with primed steel. FCP uses galvanized steel framing with industry leading safety features like lifetime kick through and chew proof warranty, fire resistant, extremely low maintenance, and built to last a lifetime. Just another example of why Coffman Barns is a leading turnkey barn dealer/contractor in the industry, and FCP Barns being solely manufactured in the USA, is the choice of industry professionals worldwide.
"FCP and Coffman Barns are proud to have been given the opportunity to contribute to the WestWorld and City of Scottsdale project," said Cheryl Spangler, FCP Barns & Buildings Sales Manager. "For over four decades, FCP has been a major player in equestrian projects thanks in part to their long-standing relationship with dealers like Coffman Barns. This particular project is an excellent example of the commitment and expertise that FCP and Coffman Barns bring to all of their projects, and this one will be one we're very proud to be a part of."
Our goal is to make sure that your barn building project runs smoothly and efficiently. We understand the importance of a well-executed workflow in order to ensure success and are proud to provide solutions tailored specifically for your needs. Our team works with you from start to finish, providing customized services including project and operational planning, logistics support, engineering services, and more. We strive to provide the most cost-effective solutions while taking into consideration your desired timeline. Our experienced personnel are here to help you throughout each step of the project, from consulting on design options and managing construction through completion.
Whether it is a large multi-barn equestrian facility like WestWorld, or a small shelter, Coffman Barns, and FCP branded manufacturing, has the perfect workflow solution for you.
At a Glance:
Approximately 120′ x 80' RCA Barn Facility
Double 9' High x 16′ Breezeways
Forty-eight 10'x12′ Stalls with Rear Sliding Solid Windows on Outer Walls
Closed lower Eave for Winter
Open Upper RCA for Warmer Temps
Custom RCA Screens
Made in America since 1982, let us show you why FCP is known for the "Best-built" barns, buildings, equestrian, and agricultural facilities.
FCP Custom Barns feature a life-time kick-through, chew-proof warranty and is fire resistant.
Learn more about FCP health and safety Features.
Contact us to discuss your custom barn project or to speak to an FCP design consultant at 1-800-807-2276.
Regular business hours Mon-Fri 8am-5pm (PST). For after hours please use our contact form.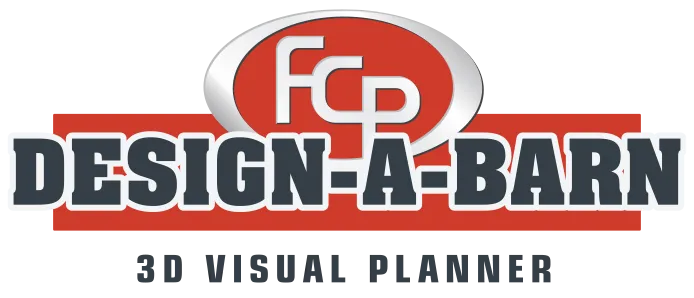 The Equestrian Industry's First and Only 3D Visual Barn Building Planner That Can Design the Interior Floor Plan Spaces