The Best Barn Plans for Any Application
Modular Horse Barn Building Plans & Kits
Whether it's a small-scale project or a large commercial construction, FCP consistently delivers quality and versatility. No matter the size, we offer a diverse range of barn plans, and cater to any construction application, making FCP the ideal choice for prefabricated barn construction.
FCP Prefab Building Systems
Our high-quality prefabricated building systems are engineered for strength, durability, and ease of construction. Each pre-engineered barn kit come with everything needed for assembly.
The prefab metal barn components are built here in the USA and ship directly to the site ready for bolt-together assembly, reducing construction timelines and costs compared to traditional building. Our experienced team handles the entire prefab process from design through manufacturing and delivery, providing a turnkey prefabricated building solution.
Popular horse barn floor plans & kits include:
Shedrow Barn Plans

Shedrow floor plans, or Inline Barns, provide a traditional gabled roofline with a generous protective porch overhang. They're an excellent choice for areas with space limitations and provide the most natural ventilation, perfect for warmer climates.
Gable Barn Plans

Gable style open breezeway horse barn floor plans are cost-effective structures utilizing a single-pitched roofline. With its timeless beauty, the FCP gable barn is attractive, functional, and economical.
RCA Barn Plans

RCA barn floor plans are most popular among horse enthusiasts. The traditional look of RCA barns allows for greater air circulation and natural lighting. Optional RCA sliding windows with screens between the upper and lower rooflines provide ventilation control.
Mare Motels, Loafing Sheds, and Round Pens

Mare Motels and Loafing Sheds provide long-lasting durability and value, as well as the "Best-Built" quality you've come to expect from FCP. We're one of the few manufacturers that engineers Mare Motel shelters to meet code compliance regardless of permit requirements. They provide a warm dry shelter through the fall and winter and a cool shaded retreat during the spring and summer months.
Freestanding Building Plans

RCA Freestand plans are perfect for garages, RC, Trailers, Agriculture Equipment, Workshops, Storage Buildings, Hay and Equipment, Offices, and much more. Made from the same fire-resistant materials as out barns and backed by the same warranty.
Kick Proof, Chew Proof, Fire-resistant
FCP Barn Plans are designed with the safety and well-being of your horses in mind. They are kick-proof, thanks to the use of durable, high-quality materials that can withstand even the most powerful horse kicks. The walls are constructed with heavy-duty steel that is not only resistant to kicking, but also to chewing.
This means that horses cannot damage their stalls by biting or gnawing at them, making FCP barns a great investment for long-term use. Additionally, our barn plans feature fire-resistant materials. The use of non-combustible steel significantly reduces the risk of fire, providing an extra layer of protection for your animals and peace of mind for you. These features make FCP Barn Plans a preferred choice for horse owners who prioritize safety and durability.
Need More Customization?
Not finding what you're looking for? FCP offers more barn options and accessories than any other manufacturer. Our barn accessories include tack gear saddle racks and bars, hitching posts, chutes, drop ceilings, and feeders, or add valuable floor space with a loft or mezzanine. At FCP, we make adding the final touches to your barn easy.
Contact us to discuss your barn plan ideas, or try our Design-A-Barn 3D Visual Barn Planner.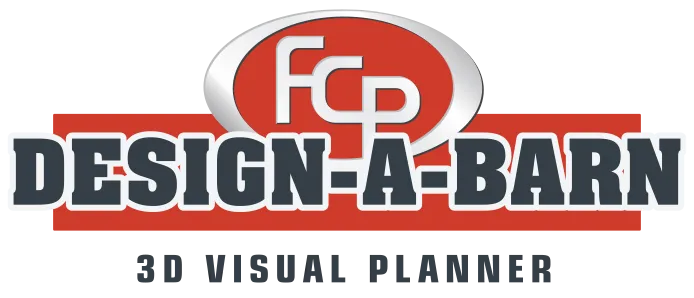 The Equestrian Industry's First and Only 3D Visual Barn Building Planner That Can Design the Interior Floor Plan Spaces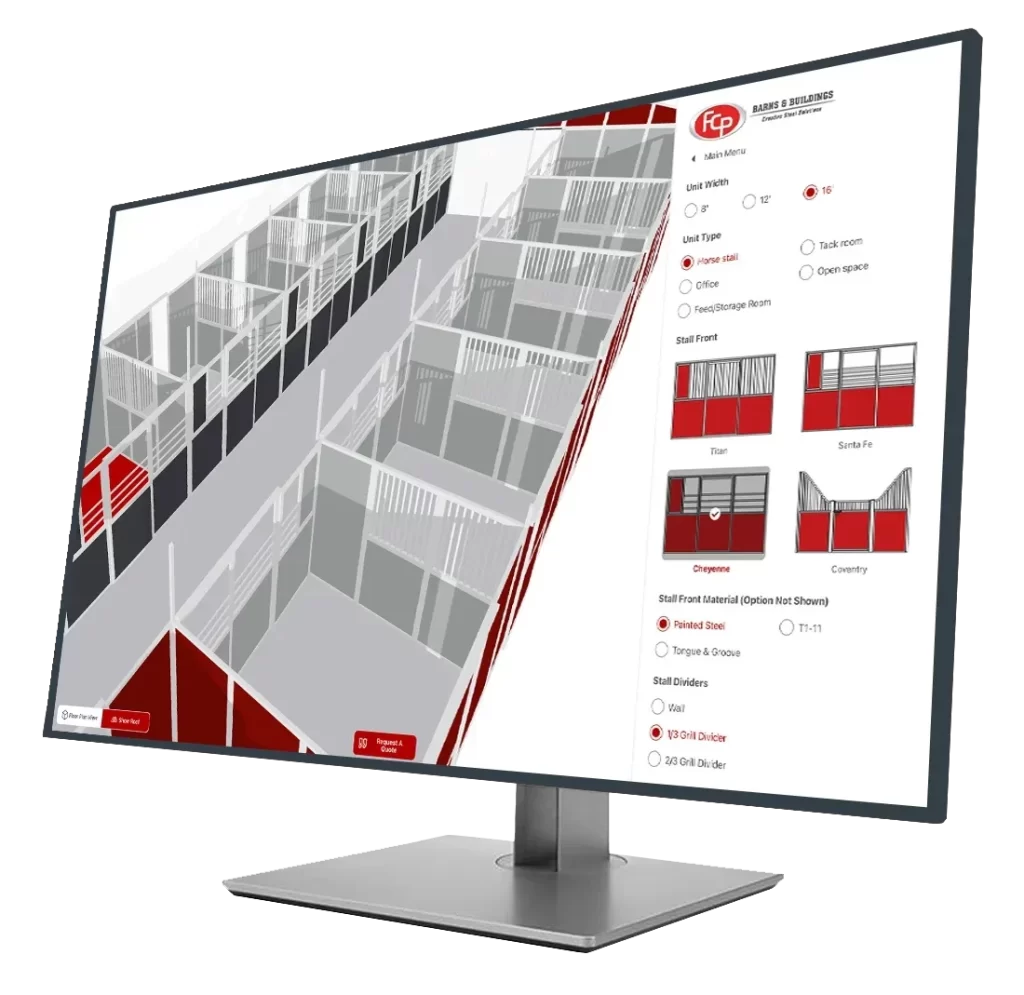 Made in America since 1982, let us show you why FCP is known as the "Best-Built" brand for horse barn plans, buildings, commercial equestrian, and agricultural facilities.
Contact us to discuss barn plans or to speak to an FCP design consultant at 1-800-807-2276.
Regular business hours Mon-Fri 8am-5pm (PST). For after hours please use our contact form.