How to Prevent Barn Fires?
Best Fire Protection Practices
The best time to think about fire safety is before you build your barn. Fire prevention takes a comprehensive approach – from identifying the hazards to taking every possible precaution. When you incorporate fire prevention into the building of your new barn, you can buy yourself some peace of mind and maybe save on your insurance premiums as well.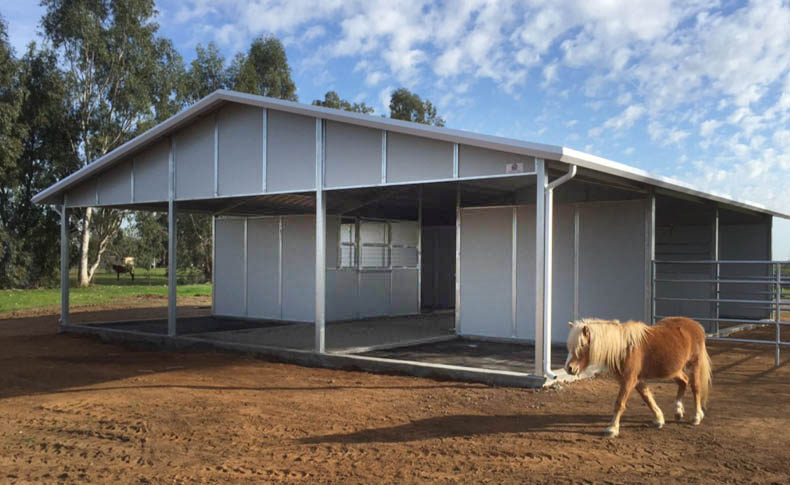 Build in safeguards:
Select building materials with low flammability. Metal is a far, far less flammable building material than wood. FCP steel lined wall panels are fire resistant.
Design your barn with plenty of exits for quick evacuation if needed.
Install smoke and heat detectors that can be set up to automatically alarm the closest fire station.
Install electrical wiring through metal conduits to prevent rodents from chewing on the wiring and do not overload your circuits.
Be careful with space heaters and heat lamps.
Place electrical outlets safely away from horses and use only "outdoor" type outlets with spring-closing covers to help keep out moisture and dust.
Install protective cages over the light fixtures.
Keep space between electrical equipment and combustible materials.
Install at least one exterior water source on the outside of the barn.
After construction:
Install fire extinguishers throughout the barn and have them inspected yearly at your local fire department.
Use caution and exercise best safety practices when using space heaters or heat lamps.
Store hay and straw and other combustible materials in a separate structure.
Refrain from storing leading accelerants like gasoline, kerosene, fertilizers, pesticides, and herbicides.
Keep the barn clean – sweep up shavings and hay and keep the barn clear of cobwebs.
Keep the outside of your barn clear of tall grass, hay, and other combustible debris.
Be cautious of sparks from tailpipes from motor vehicles.
Complete an electrical inspection.
Have a Fire Plan
What measures will you take in the event of a disaster? It's important to plan for a worst-case scenario. Have supplies on hand in case a fire obstructs your path and be sure to keep all firefighting equipment easily accessible. Make sure to plan for animals. Keep leads and halters somewhere readily available in case of an emergency.
Have leads and halters close by for animal evacuation.
Have an accessible water source.
Keep barn exits clear and make sure emergency vehicles have clear access.
Invest in fire equipment (smoke detectors, fire extinguishers, hoses, etc…)
Be sure everyone knows the fire plan.
Still unsure or have questions? Consider calling your local fire department for a safety inspection.
What are the additional benefits of an FCP metal barn?
FCP steel barns are highly durable and resistant to weather conditions such as rain, snow, wind, and pests. Unlike wood, metal does not rot, warp, or deteriorate over time and provides a longer lifespan and requires less maintenance. Would you rather spend time with your horses, or time working on your barn?
For over 40 years, the FCP brand has continually set the standards for providing the finest US-quality manufactured barns and buildings. By being an innovator in design, technology, workmanship, execution, and professional support, FCP has built its reputation as America's "Go-To" company for Creative Steel Solutions.
Learn more about FCP health and safety Features.
To learn more about the fire safety features of FCP barns, call us and speak to an FCP design consultant at 1-800-807-2276.
Regular business hours Mon-Fri 8am-5pm (PST). For after-hours please use our contact form.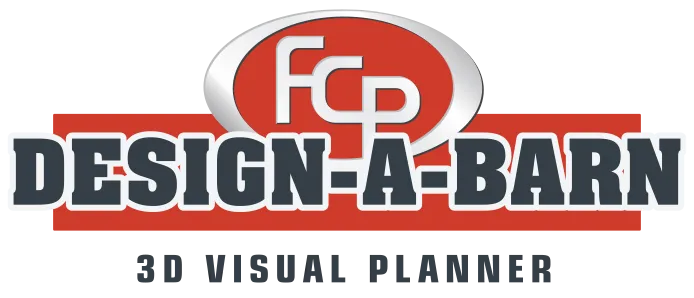 The Equestrian Industry's First and Only 3D Visual Barn Building Planner That Can Design the Interior Floor Plan Spaces
Barn Fire FAQ
How to prevent barn fires?
Regular safety inspections and selecting building materials with low flammability are vital in reducing the risk of a potential barn fire. Steel is durable, noncombustible, and fire-resistant material making it a superior choice over traditional wood materials when it comes to fire mitigation.
What are the leading causes of barn fires?
Heating equipment, such as space heaters and heat lamps, are the leading cause of barn fires. Improper electrical wiring or rodents chewing through wires are also causes of barn fires. Combustive materials include hay or straw, as well as, bedding material like sawdust and shredded newspaper, cobwebs, grain dust, and horse blankets. The leading accelerants include, gasoline, kerosene, oil, aerosol cans, paint and paint thinner, charcoal lighter fluid, fertilizers, pesticides and herbicides.
How do you fireproof your barn?
When building your barn, it's important to think about fire safety. Selecting building materials with low flammability, such as metal/steel, is much less flammable than wood. Be sure to design your barn with plenty of exits for quick evacuation if needed. Having a water source is your best bet in minimizing fire damage. Refrain from storing combustable and accelerant materials in your barn. Invest in fire protection equipment, and if feasible add a ceiling mounted sprinkler system.
Is your barn safe?
Not only are the building materials of your barn important but also the contents inside and out.  Poor electrical wiring, careless use of space heaters, combustible materials such as hay and straw, or accelerant materials like gasoline and fertilizers, and even outside surrounding dry grass or other combustible materials can impact fire safety. Preparing in advance can go a long way to mitigating fire danger.
What to do in the event of a fire?
You've done everything you can to prevent the likelihood of a barn fire, but you can't control everything no matter how hard you try. In the event of a random lightning bolt or raging forest fire sweeping your property, you need to have a fire plan in place. You should have halters and leads ready to go to evacuate your animals. Notify your local fire department as soon as possible. Having access to a water source is your best bet in successfully minimizing damage to your barn, and equipment. However, do not attempt to put a barn fire out if you lack the proper training or if it is likely too dangerous. Putting yourself in danger is the worst thing you can do.