FCP Custom Horse Arenas
FCP Barns and Buildings
Custom Horse Arenas – FCP designs and builds Custom Horse Arenas for any equestrian, agricultural, commercial, or public venue. Covered arenas are a must-have for any private or professional application that faces inclement weather or zoning restrictions. FCP custom horse arenas are the most durable, American made structures that can withstand the most extreme weather conditions. They look amazing, outperform traditional building materials, and provide years of low maintenance.
FCP Custom Arena Manufacturing Capabilities
FCP has manufactured some of the largest, most challenging custom horse arenas and event canopies in the industry, and we can manufacture one for you too. FCP custom horse arenas are resistant to fire, termites, and harsh weather elements making them a perfect solution for anything from a private riding arena or the largest of facilities. Proudly made in the USA.
No matter if you need a simple round pen or a enclosed arena, FCP can manufacture your arena to your requirements. Covered, partially covered, and enclosed custom horse arenas provide a safe and controlled environment for horses, farm animals, and humans alike.
Common Arena Sizes – FCP Riding Arenas & Canopy Shelters
Custom Horse Arena Typical Sizing Requirements – Depending on your riding discipline, sizing requirements can vary. Here are some common arena dimensions.
Round Horse Pens (Training and Exercise)
The minimum recommended size for a round pen is 30 feet, while the maximum useful diameter is 100 feet. Also See Round Pens.
A typical round pen size for horse training is usually 50 to 60 feet in diameter.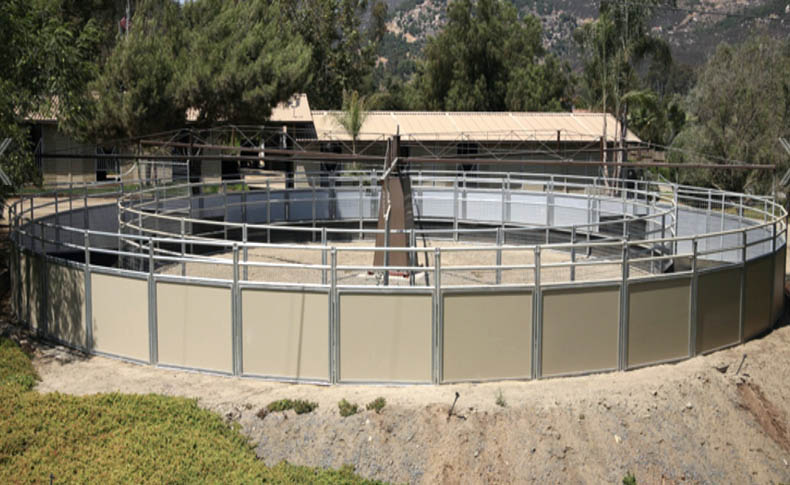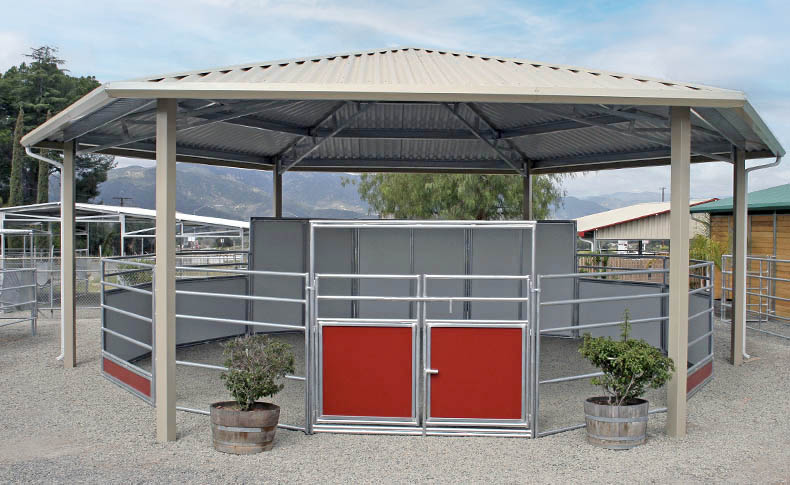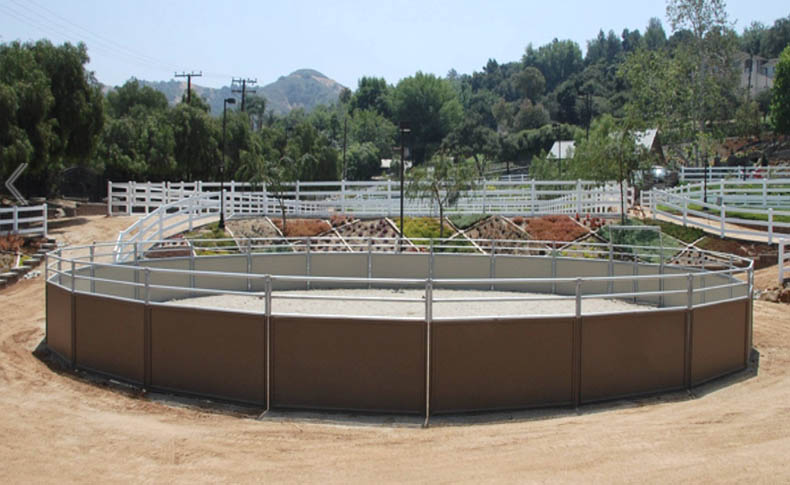 Dressage Arenas
For formal dressage practice and competition riding, you will want a custom horse arena that is at least 66 feet wide. Examples Include:
Competition and show Dressage arenas are 20 meters by 60 meters (66 ft x 197 feet).
Practice Dressage Arenas run smaller at 20 meters by 40 meters. (66 ft x 131 feet).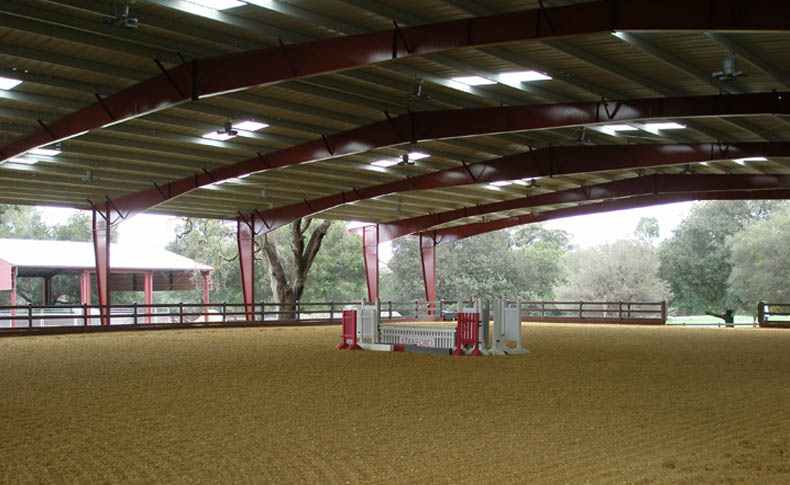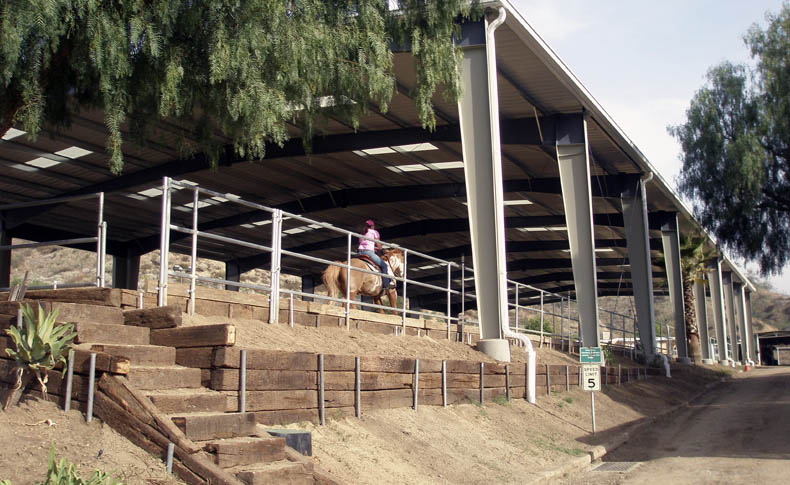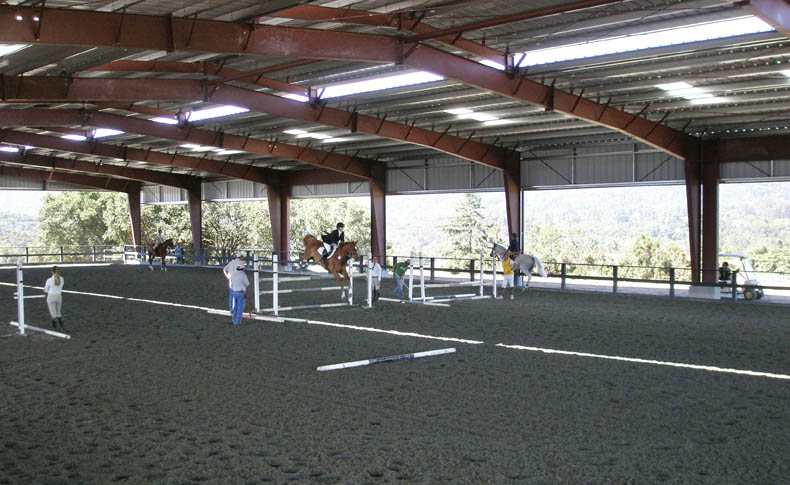 Western Style Arenas
Western events that involve barrel racing or roping require longer arenas. Examples Include:
Team Penning arenas are typically 120 feet by 200 feet.
Roping arenas are typically 40 feet by 300 feet layout (or 70 ft x 240 feet if you have a return chute). Note: a long narrow arena may be fine, but be aware that narrow arenas may not have the same resale value as a wider arena.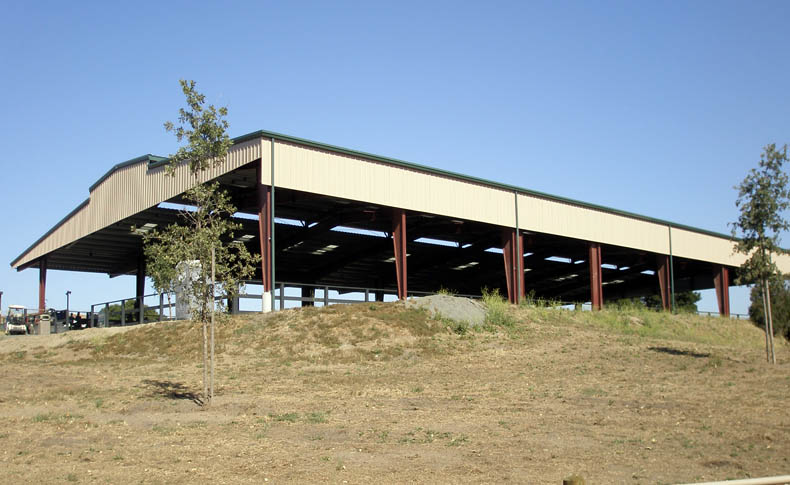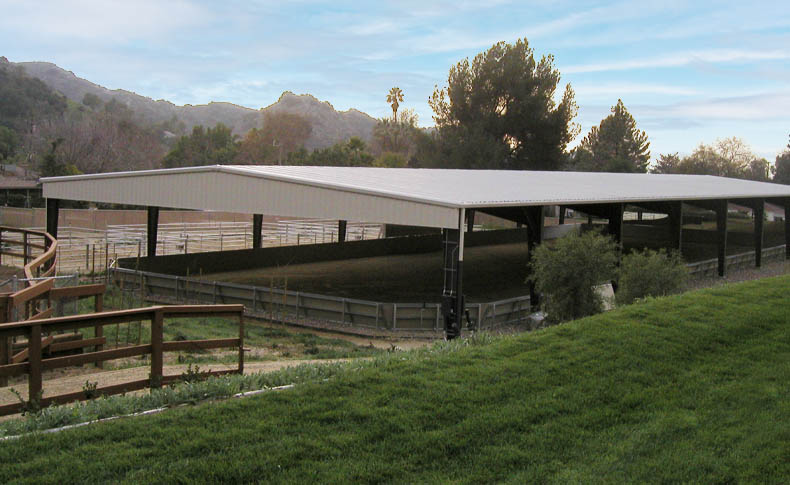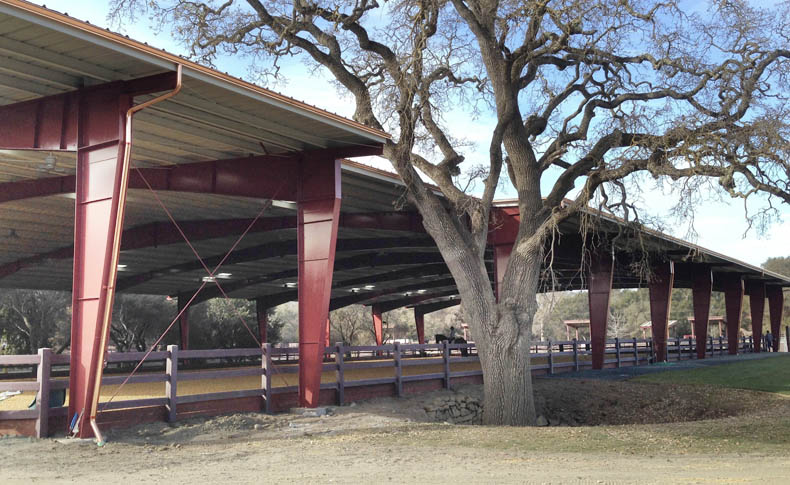 Other Custom Arenas and Canopies
You can't control the weather, but you can control, and significantly reduce, the impact harsh weather elements have on people, livestock, and property assets. FCP covered Arenas are great for having a shelter to get out of the hot sun or inclement weather.
FCP Manufactures large custom arenas and canopy shelters for any application.
Structural steel arena covers can go as much as 200' with standard loads, less as snow loads increase.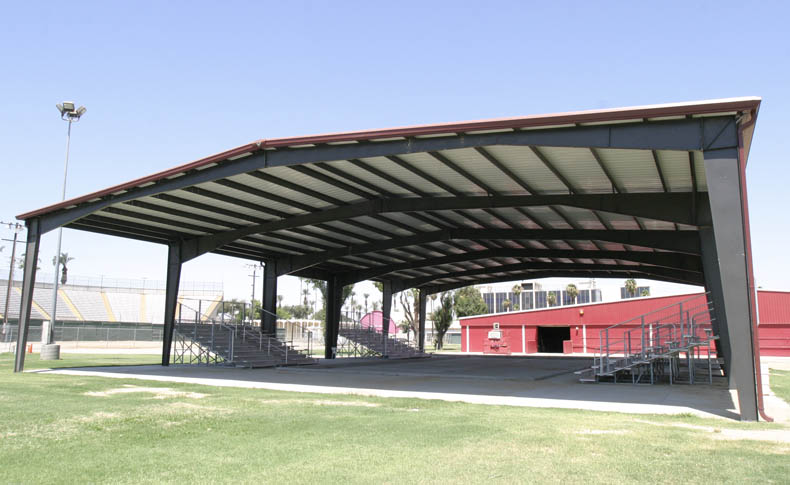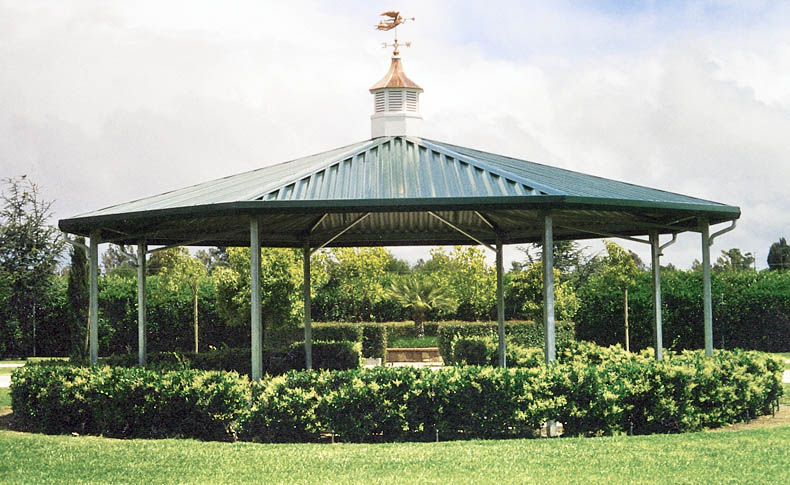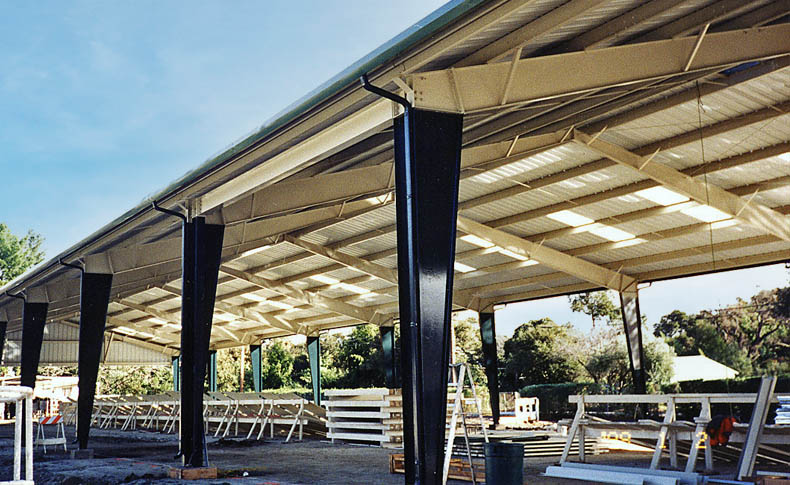 The Final Word – FCP, The Choice of Professionals Worldwide
Custom Arena Fabrication – As a "Go-To" provider of large free-span arena covers, we have literally "covered" the canopy needs for commercial, equestrian, agriculture, sporting, private use, even schools and universities. FCP rigid frame steel framing allows us to design very large structures with greater free-span distances, but what really sets us apart is our ability to design and engineer, building code compliant, steel architectural details for both form and function, that meet up to the needs of the most challenging of arena projects.
We love a challenge and welcome projects of all sizes, so if you're looking for America's best-built custom horse arenas and event canopies, then you've come to the right place.
To learn more about Custom Horse Arenas and Canopies, call us and speak to an FCP design consultant at 1-800-807-2276.
Regular business hours Mon-Fri 8am-5pm (PST). For after hours please use our contact form.
FCP's modular design and prefabrication building system provides cost-effective arena and canopy structures that can be adapted to meet even the most specialized requirements. FCP Horse Arenas are engineered to meet or surpass all the building codes throughout the world.