An Efficient Way to Build a Barn
FCP's Approach to Efficient Barn Building
Building a barn is no small feat, and it requires careful planning and a significant investment of resources. However, when done right, a barn can be a valuable asset on your farm or ranch, providing shelter and storage for your animals and equipment. If you're considering building a barn, you may be wondering what the best option is for your needs and budget. At FCP Barns, we believe our metal barns are the most efficient and cost effective option, in the long run, on the market today. Read on… FCP's "An Efficient Way to Build a Barn".
Metal Barns Last Longer

One of the primary benefits of our metal barns is that they're built to last. Unlike traditional pole barns, which are made of wood, our barns are made of durable, high-quality steel that can withstand the toughest weather conditions. Metal barns don't rot or warp like wood, and they're impervious to pests like termites and rodents. Additionally, FCP's metal barns are resistant to fires and can help protect your animal and property assets in case of an emergency.
Safety Features

When comparing safety features between traditional construction vs steel, there's simply nothing better. Steel is stronger, more durable when it comes to wind and snow loads. Steel is non-combustable making them fire resistant. Our triple laminated wall panels are kick-thru proof and designed to flex and absorb shock from a kick that could otherwise transfer to the horses leg causing serious injury or even a break. They also won't splinter like wood which can cause cuts and scrapes, and there chew proof so your horses won't digest splinters. There are no exposed nails or screws that can cause cuts. Steel barns are great for anyone who houses horses because steel will not harbor bacteria or disease. All FCP barns come with a lifetime kick-thru and chew-thru warranty.
Metal Barns Are More Cost-Effective

While it may be tempting to save money upfront by building a pole barn, in the long run, you'll likely spend more on maintenance and repairs. They require painting or staining to protect from the elements, and wood can warp and rot over time, which can lead to structural issues and a shorter lifespan for the barn. However, prefabricated steel modular barns are a cost effective solution that will save you money over the long term.

FCP's prefabricated barns require very little maintenance over their lifetime, which means that you'll save money on repairs and replacements. Unlike traditional barn construction, which requires extensive manual labor for framing, building, and finishing the structure, modular barns are pre-fabricated and delivered directly to the build site so you'll save on labor costs, loss in scrap, or even loss due to theft.
Easy Customization

Love the look of wood but want the benefits of steel? Get the best of both worlds. At FCP Barns, we understand that every farm and ranch is unique, and that's why we offer material options like T1-11, tongue & groove, stucco or wood texture cement board options. Get the safety benefit of steel on the inside of all stall walls, with the architectural look that meets your personal taste on other walls. You can choose the size, style, and layout of your barn, and we'll work with you every step of the way to ensure your needs are met. Our metal barns are also easy to modify and add onto, which gives you the flexibility to expand your barn in the future, or add other matching structures like a hay barn or shelter if your needs change.
Environmentally Friendly

Another advantage of our metal barns is that they're environmentally friendly. Steel is one of the most recyclable materials on the planet, which means that our metal barns are sustainable and can be recycled at the end of their lifespan. Additionally, our metal barns can be designed with energy-efficient features, such as ventilation and our foam insulated siding, which can lower your energy costs. When our barn kits arrive at your build site, you'll appreciate minimal site disruption
A Better Investment 

Building a barn is a significant investment, and choosing a durable, cost-effective option like FCP's metal barns can save you money in the long run. Our metal barns will outlast and outperform traditional wood barns. They're safer, and each barn comes with a lifetime kick-thru, chew-thru warranty, which means that you can be confident that your investment will provide protection and shelter for your animals and equipment for decades to come. Additionally, our metal barns can increase the resale value of your property and be a valuable asset if you decide to sell in the future. And, because they're modular, they can even be disassembled, relocated or even sold, giving you a return on your investment.
Using Third Party Contractors to Increase Efficiency
Whether it's incorporating advanced ventilation systems, lighting, security, or designing with specialized construction materials, working with a third-party contractor can enhance the functionality and aesthetics of your custom FCP barn. Be sure to ask about special request with your FCP dealer.
Deciding to build a barn is a big choice, and choosing the right type of barn is essential to ensure that your investment lasts for years to come. At FCP Barns, we believe that our metal barns are the safest, most efficient, durable, and cost-effective option, in the long run, on the market. Our metal barns have proven themselves time and time again, withstanding even the toughest weather conditions. They require very low maintenance, customizable to fit your exact specifications, environmentally friendly and offer great resale value. Contact us to learn more about how we can help you build the barn of your dreams.
Made in America since 1982, let us show you why FCP is known as the "Best-Built" brand for horse barns, buildings, commercial equestrian, and agricultural facilities.
Contact us to discuss your barn project or to speak to an FCP design consultant at 1-800-807-2276.
Regular business hours Mon-Fri 8am-5pm (PST). For after hours please use our contact form.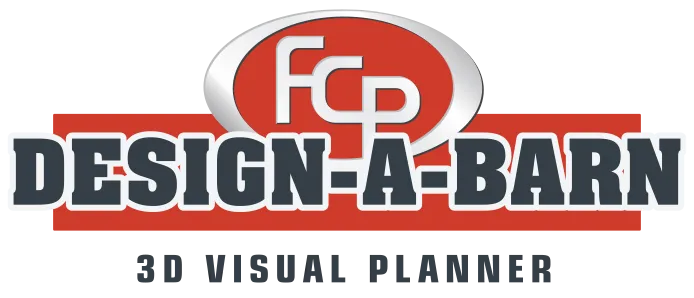 The Equestrian Industry's First and Only 3D Visual Barn Building Planner That Can Design the Interior Floor Plan Spaces